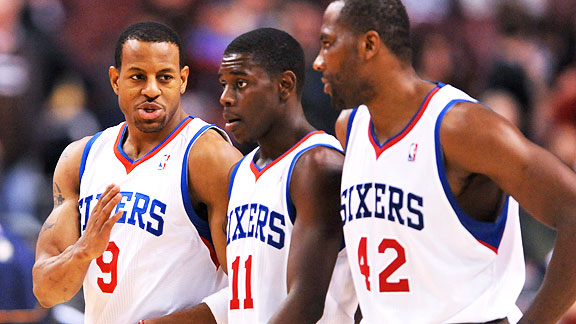 Am I the only one who realizes how wild this is? Absolutely no one saw this coming. The Philadelphia 76ers are in first place in the Atlantic division. They lead the aged Boston Celtics who have won the division for the past 4 years and the New York Knicks who came into the year with deep playoff hopes (they also lead the Raptors and Nets but we don't care about those teams). The Sixers are 10-4 right now and are in the top 10 in virtually every statistical category in the NBA. Not only is the team giving up the second least amount of points in the league- they're also scoring the third highest amount of points per game. Philadelphia has quietly become possibly the most efficient team in the NBA.
So how exactly has the happened? Balance. Complete team balance. When looking up and down the Sixers roster, they don't have one guy who averages taking more than 11 shots per game. In fact, their highest scorer is Lou Williams who averages 15.7 points per game. The most impressive thing about this team though, is the fact that they have 7 players averaging 10 points or more per game- which doesn't happen too often in the NBA.
Personally, I'm going to credit coach Doug Collins. Since taking over the team a year ago, he has done a great job keeping this team under control and getting the best out of his players. He brought the team to the playoffs in his first year and lost in the first round- but did get a win off the eventual Eastern Conference champion Miami Heat. The scary thing is, this team can continue to improve a lot. With stat sheet stuffer Andre Iguodala, super sixth man Lou Williams, the promising future of point guard Jrue Holliday, and plenty of more young talent, the sky is the limit for this Philly squad.
Despite not having a superstar, the Philadelphia 76ers are very, very quietly emerging as one of the better teams in the Eastern Conference. Further team balance and avoiding egos will contribute to the continued improvement of the team. I think it's time that Jay starts using the JPoint on his hometown team.