Yesterday, I basically took the easy way out and said that I'd like to see Ron Hextall re-sign all of the Flyers restricted free agents. That's a really moderate take, because it seems like just about everyone agrees that this team is headed in the right direction.
The RFA thing was created to help teams retain their younger players (so the good ones don't all end up in Toronto and New York), and I think it'd be wise for Hexy to do just that. That's simple, it's easy, and let's just accept it as the plan and move on.
Unrestricted free agents, on the other hand, are a bit trickier. They can listen to offers from every team in the league, and those teams can make offers without having to send compensatory picks back to the player's previous team.
The Flyers have two unrestricted free agents to deal with (or not) this summer. Let's take a look: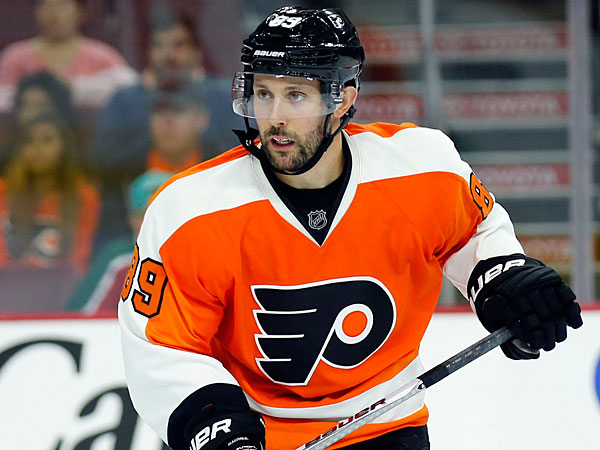 Sam Gagner, Winger (Turns 27 This Summer)
Sam Gagner's contract expired after this season. It was a three-year deal, and it continued his
trend of annual raises
:
2007-2010 (entry-level contract) - 3 years, $0.875 million cap hit
2010-2012 (RFA) - 2 years, $2.275 million cap hit
2012-2013 (RFA) - 1 year, $3.2 million cap hit
2013-2016 (UFA) - 3 years, $4.8 million cap hit
As it normally goes in the NHL, Gagner's annual earnings increased each year. But I think you can make the argument that his salary will have peaked this season, when he earned $5 million (Arizona retained a portion when they traded him to Philly).
Is Gagner worth more than $5 million per year? Based on what I found with mid-20s wingers in my Brayden Schenn piece yesterday, I think you'd have a tough time arguing that he is.
That said, I really enjoyed 89's chemistry with Jake Voracek toward the end of this season, and I'd love to work out a deal that keeps Gagner in Philly for a reasonable cap hit.
In terms of comparable contracts on the Flyers, I imagine Sam's target contract will be upwards of Matt Read's current deal (4 years, $14.5 million, $3.625 million cap hit). The Flyer's target will probably be something just shy of the deal they just gave Michael Raffl (3 years, $7.05 million, $2.35 million cap hit).
It comes down to the unrestricted free agent status; someone is going to offer Gagner more than $4 million per year to be a top-line winger, and the Flyers aren't going to be able to provide that dollar figure or role to him. Ultimately, and I'm sad to say it, Gagner is probably joining a new team in the Fall.
Ryan White, Center/Winger/Grinder (Just Turned 28)
Oh, Whitey, please don't leave us.
Let me give you the quick
history
: he was drafted by Montreal in 2006, and split time between the Habs and their AHL affiliate from 2008-2012. He then played two more seasons in Montreal (though he played just 78 games total in those two years), and just finished his second season in Philadelphia (though this was the first time in his career he actually played a full NHL season).
In looking at his
contract history
, I learned that White's never had a contract for longer than one year (the lone exception was his 3-year entry level deal). Montreal extended him on a year-by-year basis, as did Philadelphia after his first year with the club. He never made more than $700k in Montreal, and the $800k he earned in his second year in Philly was his largest salary ever.
And oh boy, what a second year it was. He ended this season by scoring a goal in the playoffs - a greasy one, as he tends to do - and it was the cherry on top of a career year for him. He kept his spot on the fourth line (and second power play unit) all season, and Coach Dave Hakstol used the fourth line just about as much as any fourth line in the entire league.
White matched his career goal total from his previous six NHL seasons with 11, and set new career marks in points, power play points, and penalty minutes. But, more than anything, it seems like he finally found a fit in the locker room and on the ice. Here's White's direct quote, from
Charlie O'Connor's piece on BSH
:
"I'd like to be back. It's a good fit to be here in Philly. My family loves it here, I love playing here. When you're somewhere else and maybe things didn't go as well, and then you finally get to a spot where you're getting some opportunity and people around the team all have the same mindset as you do, I think you don't really want to test too many waters, I guess.
Business is business, and hopefully we get something done. Free agency isn't the best situation for every guy. They say it is, but I've been through it a couple of times, and the first time there weren't any offers. Obviously I had a better season this year, so maybe there would be a little bit better of a market, but I would like to be back and be a Flyer.
Are you searching for money or a new opportunity, or are you searching for a place where you're wanted, a place where you're getting minutes, and you're getting a big part of the chance to help your team win? Knowing the system, knowing the coach, having the coach's respect and having him liking you and playing you is a big thing. I think that's a tough thing to find sometimes. It's almost to the point where -- what do you want to give up to give it away? It's just -- how much is money worth compared to being a Flyer?
Okay, now I'm in tears because I love him so fucking much.
White, at $800k, earned the most of The Untouchables line this season. Chris Vandevelde and Pierre-Edouard Bellemare each earned $712k and will return next year at the same amount.
If Whitey's okay with staying at that cap hit forever, I'll sign him to a lifetime contract right now. What's the most we can actually do, 8 years? It obviously won't happen but I'd throw an 8 year/$6.4 million contract right in front of his face. So what if he's going to be 36 when it ends? Do you think that's going to stop Ryan White from finishing checks along the boards and pulling a top-corner snipe out of his ass a few times a year?
Sorry, I got a little sidetracked there. In reality, it seems like White will happily sign a one-year deal like he's been doing his whole career, and he probably won't fight too hard for a raise because he's getting his chance to actually play. But I'd love to see Hextall reward the best season of his career with a 2- or 3-year contract for about a million bucks a year.
Ryan White is the quintessential "stats can't account for everything" player. His possession metrics are not great, he's only scored double-digit goals once in his professional career, and he has been known to occasionally take a bad penalty. But he's a big Set The Tone guy. He finishes his checks, he forechecks like a motherfucker, and he's one of the first to jump in to stick up for a teammate.
The NHL is certainly heading in a softer direction, but you still need guys like Ryan White. He's nasty, he'll talk shit to everyone within earshot, and (this last part is most important) he's MUCH more skilled than people give him credit for.
If all of that combines and adds up to earning him yet another one-year deal, then great. If he gets some long-term stability for the first time in his career, then it will be well-earned and I'll look forward to seeing him orange for as long as I can.