With the book on wacky, up-and-down, sometimes-great-sometimes-miserable 2017-18 Flyers season now closed, it's time to look to the future. It's almost certainly brighter than this year's Penguins series, and it's going to get at least a little bit brighter this June in Dallas.
The Flyers, with their first-round exit, will own the 19th pick in the draft. They will likely also claim St. Louis' pick as a result of the Morgan Frost Trade (that's what we're calling it now), which will has a 95% chance of being 14th overall and a 2% chance of being 15th.
St. Louis has a 5% chance of winning the lottery and moving into the top three, in which case they can defer the pick to next year's draft.
Florida has a 3.3% chance of winning the lottery and bumping the Flyers' pick from 14th down to 15th.
So we're going to be able to add something decent. Here are some notable players who were taken in that late-teens-to-early-twenties range over the past several years:
2017 - Juuso Valimaki, Timothy Liljegren, Filip Chytl
2016 - Charlie McAvoy, Jakob Chychrun, German Rubtsov
2015 - Matthew Barzal, Brock Boeser, Travis Konecny
2014 - Dylan Larkin, Travis Sanheim, David Pastrnak
Now, obviously, draft picks are all lottery tickets and this doesn't mean we're going to just be able to plus McAvoy- and Pastrnak-equivalents into the lineup next season. But Ron Hextall has a proven track record of nailing draft picks, and there's a reasonable hope that he's going to grab two young guys who will contribute tangibly in two or three years.
Even though I'm wildly underqualified - and I will freely admit that I'm going to blindly trust Ron on whoever he ends up drafting - I want to learn more about the guys who should be on the board when it's Philadelphia's turn to select this summer. I'm going to focus on forwards, because (1) we already have so many defenseman and (2) forwards tend to translate in a more predictable way, and also they're ready to go quicker.
Let's split them into two groups, just for the sake of making this as easy as possible for me. Most of the NHL draft prospect websites tend to agree on where certain players rank on the 'big board', so we have a decent idea of who *might* be on the board for the Flyers and who *should* be.
All rankings and breakdowns are provided by the wonderful
Eliteprospects
unless I linked another source. I leaned on Corey Pronman (from The Athletic) because he's the best at this stuff. Mile High Hockey, SB Nation's Avs site, had a bunch of these guys reviewed because the Avs' pick projects to be right in the same neighborhood as the Flyers'.
Forwards That Probably Won't Be On The Board, But Might, Maybe
Joel Farabee, winger, US National Development Team
6,0", 168 pounds
Ranked between 8th and 16th by the big four hockey prospect sites
"Dangerous two-way forward who uses his legs and IQ to make something happen most shifts"
"Super slick playmaker from the wing. He has excellent vision and playmaking abilities. Somewhat slight of frame, but is slippery enough to avoid big contact."
source
"Cerebral three-zone playmaker who consistently adheres to textbook fundamentals in addition to being one of the most lethal scorers in his draft class. He can tailor his style to fit any game — wide open, slogging matches, physical…it simply does not matter. Farabee is a top-line winger for the NTDP and he plays that role in every situation no matter the score or time on the clock."
source
Jesperi Kotkaniemi, center, Ässät
(
Finland)
6'2", 190 pounds
Ranked between 10th and 18th by the big four hockey prospect sites
"A smart forward with a dangerous shot, Kotkaniemi possesses a high hockey IQ and determination with the skills to back it up. Positions himself well and often seems to be a step ahead of plays. Stickhandling and creativity allow him to split professional defences as a teenager. Decent size and frame, yet a very capable skater."
"Alert and versatile forward with good speed and a wide range of attributes who has performed well beyond expectations as a 17-year-old playing key minutes in Finland's top league. Kotkaniemi comes across as a smart, clean player with or without the puck and can play either center or wing. He is used on the penalty kill and in late-game situations, showing defensive prowess regardless of the job he's assigned. He has a nose for sniffing out opposing intentions, and his quick hands and keen vision can turn a run-of-the-mill enemy breakout into a quality chance for him or his mates."
source
Grigori Denisenko, winger, Yoko Yaroslavl (KHL)
5'10", 165 pounds
Ranked between 11th and 21st by the big four hockey prospect sites
"Displays high skill level and skating agility with the puck on his stick…a playmaker with the shooting ability to finish chances himself."
"As a traditional Russian winger, Denisenko can boast in his arsenal tremendous puck-handling skills, excellent skating with high top speed, and a good nose for spotting an open partner. All this packed in a compact 5-foot-11, 175-pound body that will surely cause him to slip down a bit in the draft day, even if size in the NHL has not a dramatic impact as it used to have."
source
"Many NHL teams may also be concerned by his maturity. He likes to (over)play the puck and is prone to "bad discipline" penalties."
"Denisenko is one of the most skilled players in his draft class. On a pure talent level, he's one of, it not the top Russian in this draft class (and no I didn't forget about Andrei Svechnikov). Denisenko manipulates the puck so well and does so at high speeds."
source
Rasmus Kupari, center, Hermes (Finland)
5'11", 163 pounds
Ranked between 12th and 22nd by the big four hockey prospect sites
"He is a mix of Jesse Puljujärvi and Sebastian Aho. Slick Finnish forward, very dangerous with the puck on his stick, always a threat offensively."
"Kupari is a highly skilled, playmaking center. He is undersized, but is a strong skater with a high hockey IQ and hockey sense that makes him a dangerous offensive player and a reliable defensive player. He started the season playing at the pro level in Liiga, but after struggling somewhat was loaned to Hermes in the Mestis. Don't be discouraged by this apparent set back as an undersized 17-year-old, undersized player it simply means Kupari needs more development time before he is pro ready. Kupari has a high ceiling, and drawing comparisons to countryman Sebastian Aho gives you an indication of his upside, but he is a long term investment."
source
Isac Lundestrom, center/winger, Luleå (Sweden)
6'0", 185 pounds
Ranked between 11th and 20th by the big four hockey prospect sites
"One of the younger players in the draft class, that didn't stop him from centering the first line of Sweden's World Junior Tournament silver medal winning team. Dependable, reliable and responsible are what scouts thought a year ago, and only solidified that opinion this season with strong work in the faceoff circle, decent use of his size, skating ability and smarts while on the ice. Very versatile as he can line up at any of the three forward positions, the power play, and penalty kill. Works hard, drives the net, pressure the opposing defensemen, and creates turnovers. Drives to the net, and is decent in the defensive zone. The team that takes him his making a safe selection based on his all-around attributes that point upward."
source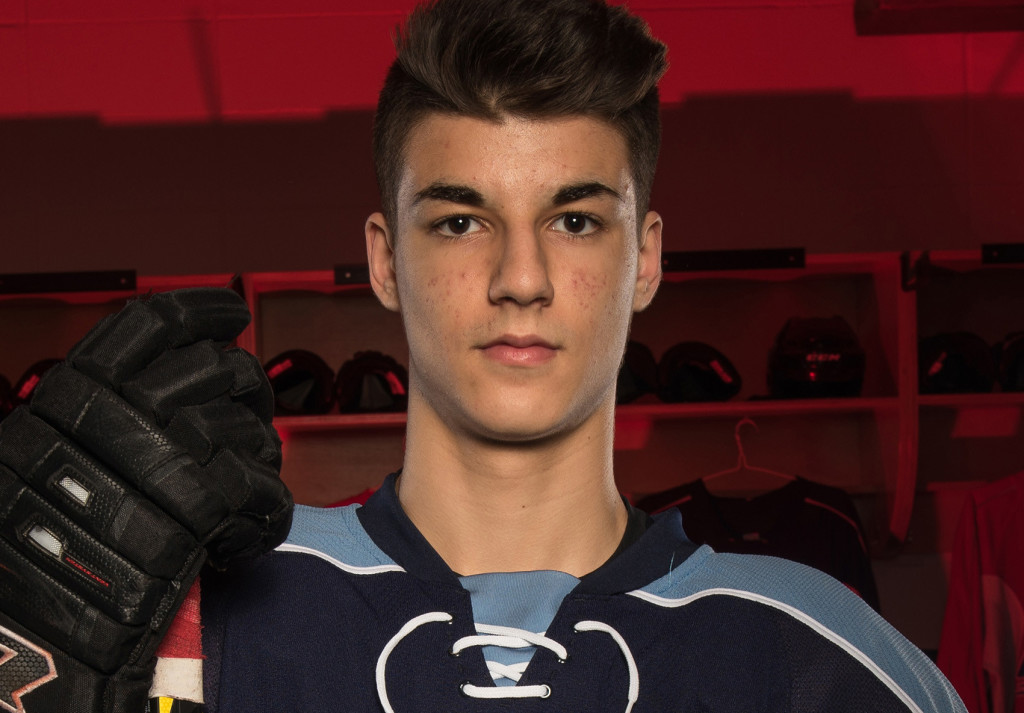 Joseph Veleno, center, Drummondville (Canada)
6'1", 194 pounds
Ranked between 9th and 23rd by the big four hockey prospect sites
"There is so much to like about Joe Veleno. He's a hard-nosed workhorse that makes the players around him better. The fleet-footed center is unselfish and will primarily look to make a play at top speed; however, when the chance arises to put it in the pot himself, he will capitalize. He sees the ice well and is rarely caught out of position. His defensive game is refined and he actively pursues puck control. Transitioning to offence is natural, smooth, and quick. All-in-all, a well-rounded two-way forward that skates well and can be the catalyst a team needs to turn a game in its favor. If he can find the consistency in refusing to let himself get taken out of plays, especially if he doesn't start them, he will thrive and exceed expectations."
Forwards That Probably Will Be On The Board, Almost Definitely, I Hope
Martin Kaut, winger, Dynamo Pardubice (Czech)
6'1", 174 pounds
Ranked between 17th and 34th by the big four hockey prospect sites
"The combination of his passing and shooting ability makes him a threat on the powerplay."
"I don't have him in my first [round], but the buzz right now in the industry is he could go there, especially after showing well last week on the Czech national team. I'm not sure he's dynamic enough for that slot. Good not great hands, average feet. Very smart though."
source
Dominik Bokk, winger, Vaxjo Lakers (Sweden)
6'1", 179 pounds
Ranked between 21st and 46th by the big four hockey prospect sites
"A highly talented winger with one on one ability, quick hands, and creative passing. Can challenge goalies with his shot, too."
"Bokk is a unique prospect. What's evident from watching roughly 15 of Bokk's games this season is his skill and creativity. He is one of the most skilled players in the draft. His puck handling is elite for a player his size and, when I've talked to management from his German national teams, they specifically point to his skill as his best attribute. I'd characterize Bokk as a playmaker, but he does have a very good shot. Most scouts I've talked to describe Bokk as soft, indifferent off the puck and not very smart defensively."
source
Vitali Kravtsov, winger, Traktor Chelyabinsk
6'2". 183 pounds
Ranked between 24th and 35th by the big four hockey prospect sites
"A big, skilled winger that can play up and down the lineup and provide scoring in a number of roles. He brings grit and physical size, but could be more assertive in throwing his weight around more. Displays excellent speed on the rush and in zone entry, but could backcheck quicker. Plays well in his own end and takes away lanes. Very good hands and awareness. Kravtsov has the potential to develop into a staple top six forward that can produce at the next level."
"There's no prospect creating more of a buzz the past few weeks than Kravtsov in the KHL playoffs. He's getting ice time on the second power play unit and regular even strength. He showed nice skills and speed for his size, but has a very straight line style without a ton of plays. Then all of a sudden, he starts lighting the world on fire, his goals spreading across the hockey community. The clubs that have watched him, from what I've heard, love him."
source
Barrett Hayton, center, Soo Greyhounds (Canada)
6'1", 185 pounds
Ranked between 12th and 27th by the big four hockey prospect sites
"Hayton is really smart. Good skill but probably not high-end. He can project as an above-average center at both ends of the rink."
source
"Hayton is one of the best two-way forwards in the draft. His hockey IQ is quite impressive. Hayton has the reliable defensive forward sense and work ethic off the puck where he makes good defensive plays and wins pucks, and I like his vision and composure with the puck. Hayton also features a heavy shot and can finish chances well. The main issue in projecting him to the NHL is his feet. He really doesn't have an explosive element and can struggle to push defenders back off the rush, but he gets where he needs to by working hard."
source
Serron Noel, winger, Oshawa (Canada)
6'5", 209 pounds
Ranked between 21st and 31st by the big four hockey prospect sites
"Serron Noel is a project that is going to be well worth the wait. His game is very raw and there is a lot of work to be done, but he has the potential to be an impact power forward in the NHL. He has proven the ability to put the puck in the net, particularly in close to the crease. Noel only really shoots the puck from high-danger areas, as a result, he's got an abnormally high shooting percentage. Noel isn't going to drive your team's offense. He is below average when it comes to zone entry attempts. He works hard on the back check and was one of the best Oshawa forwards when it came to controlled zone exits this season."
source
"There's been a lot of buzz for Noel this season for this draft. Some fans who haven't seen him, might Google him quickly and see fine but not great stats in the OHL and think this is a classic case of overvaluing size because he is 6-foot-5. That might be true to some extent, but Noel has some real ability. He has good puck skills, skates decent and can create offense; and with his frame, he is one of the best forwards around the net and on the boards in this class. The questions going forward are just how skilled is he and whether he's smart enough to make plays at an NHL pace."
source
Jay O'Brien, center, Providence (USA)
6'0", 174 pounds
Ranked between 31st and 42nd by the big four hockey prospect sites
"His prep coach, Tony Amonte, envisions him in The Show. 'Jay seems to have all the aspects of a professional. He wants it bad enough, he puts work in the gym, he shows up to work every day, he leads by example in practice.'"
source
"
What is the scouting report/consensus on Jay O'Brien in terms of his potential? Is he a first-round talent?
-- No, not dynamic enough. Second or third round."
source
Summary/Wish List
Wish list players are notated with an asterisk (*)
*Joel Farabee - We'd probably have to trade up, but I like him.
*Jesperi Kotkaniemi - Again, we'd probably have to trade up, but I like him.
Grigori Denisenko - I don't think I want him, if only because the "Russian thing" that always happens seems inevitable.
*Rasmus Kupari - He's the Scandanavian Travis Konecny, which is absolutely a good thing.
*Isac Lundestrom - I love him. My expert projection is he'll do a year in the NHL and then immediately be ready to anchor an NHL line. Lock it down.
*Joseph Veleno - I don't know how you can read that review and also have him ranked this low, but here we are. My gut says someone will love him in the 9-12 range, but if he's around at 15 it seems like he's kind of a no-brainer.
Martin Kaut - No thanks - we already have our right-handed power play guy who can't do anything at even strength (this was a Claude Giroux joke, sorry).
*Dominik Bokk - I like him but if Hextall reaches and takes him with 19 I would worry about the bust factor. If we trade down a few spots (like Hextall did when he took Rubtsov) then I like him a lot.
*Vitali Kravtsov - Big Skilled Gritty Winger Inject Him Into My Veins!!
Barrett Hayton - What you don't get from that scouting report is he has a dumb face.
Serron Noel - He's Oliver Lauridsen and Sam Morin, but on offense. Though the thought of pairing him and Isaac Ratcliffe on a line together one day is extremely intriguing. At the end of the day, I got hurt too much with Sam Morin and I don't think I'm ready for another project right now.
Jay O'Brien - He's all intangibles, which means he'll probably play 15 years in the AHL and maybe be a solid fourth-liner in the NHL for a while. I'd rather aim higher with a first round pick (this was a Tom Wilson joke, sorry).