Sadness, in an NHL context, is when you miss the playoffs and also miss out on a top draft pick. My Twitter friend
Micah
takes a variety of statistical figures into account to generate his daily Sadness Index projection. Here's where that stands as of today:
— Micah Blake McCurdy (@IneffectiveMath) February 17, 2016
Obviously, 16 teams make the playoffs. Micah's cutoff for missing out on "a top draft pick" is anyone lower than fifth. So, there are going to end up being 9 teams that are #sad at the end of the year. Yet, somehow, 11 teams have a better-than-fifty-percent chance of ending up in one of those spots. Move past that.
Puljujarvi and Laine at the World Junior Championships
The top five picks, in some order, will be Auston Matthews, Patrik Laine, Jesse Puljuvarvi, Matthew Tkachuk, and one of defensemen Olli Juolevi or Jakob Chychrun.
Let's take a look at the guys that are going to likely fall just outside the top five, because it seems like there's a pretty good chance the Flyers will end up drafting one of them. I use
Eliteprospects
for stuff like this because they compile several different scouting sites in one place.
Canadian defenseman Jakob Chychrun
Juolevi or Chychrun, whichever is not drafted fifth
Both of these defensemen project to be solid NHL talents, and no fan base would be upset to land either of them. They may not be a franchise-changer like Matthews, but they should both be blueline contributors for the better part of a decade.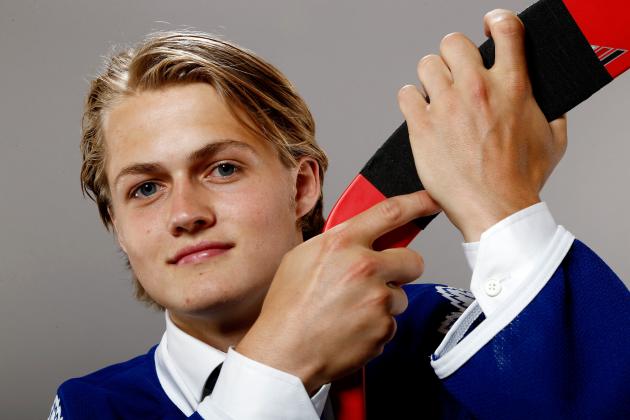 Maple Leafs prospect William Nylander, who is substantially more attractive than his younger brother
Michael McLeod, Center
Alex Nylander, Winger
Currently teammates in Mississauga, they have been tearing up the OHL. McLeod is described as a "power center", which is an asset for any NHL team to be able to ice on any of its four lines.
Nylander is probably best known for being the younger brother of Toronto Maple Leafs prospect William Nylander, but the younger Nylander lit up the World Juniors for 9 points in 7 games.
Future Philadelphia Flyer Julien Gauthier
Pierre-Luc Dubois, Winger
Tyson Jost, Center/Winger
Julien Gauthier, Winger
Let me throw some more Canadians at you, because there are obviously a lot of them available because hockey. These three (plus McLeod) are Canada's four best forward prospects. Eliteprospects has quite a bit of info for each, and it's easiest to summarize it like this:
Dubois has an unreal hockey sense and he's the prototypical "better than his physical attributes" kind of hockey player
Jost is an incredible playmaker and I keep seeing the word "crafty" used to describe him. I see shades of Travis Konecny in his game
Gauthier is a power forward, but he also has a surprising amount of skill with the puck on his stick. He might end up being the best forward in this draft behind Matthews and The Fins
Future Philadelphia Flyer Max Jones
Clayton Keller, Center
Max Jones, Winger
Kieffer Bellows, Center/Winger
Luke Kunin, Center
Alex DeBrincat, Center
There is a good chance that seven American forwards get drafted in the first round this summer. The two big names (Matthews and Tkachuk) should go within the first four picks, and it would be a mild upset if any of these five made it to the second round.
Jones and Bellows are both described as "power forwards" with puck skills that match their projected draft positions. They both also play with pretty high-quality teammates; Jones is a London Knight with Tkachuk, Juolevi, Coyotes prospect Christian Dvorak, Maple Leafs prospect Mitch Marner, Bellows is a BU Terrier along with Ahti Oksanen and Jakob Forsbacka Karlsson, who played for Finland and Sweden respectively in the World Juniors.


Keller is, almost across the board, projected higher than Jones or Bellows. But I can't find any information on him. He's a center, he's in the USHL development league, he's going to BU next season with Bellows, and he's on the smaller side at 5'10/170. Is he a playmaker or a scorer or an energy guy? I have no fucking clue. About the best I can find is
this SB Nation story
that talks about his "keen eye, soft hands, and creative mindset." He sounds kind of like Christian Grey, to be quite honest.
Kunin, who plays at the University of Wisconsin, is decidedly a step below Keller/Jones/Bellows. But anyone who is a first-round talent should eventually turn into a top-nine forward unless something goes wrong. Luke (who apparently also goes by Lane, idk) has unquestionable skills in the offensive zone, but will have to develop the other 2/3 of his game to be a real elite player.
I hate DeBrincat. He cheapshotted Travis Konecny in the World Juniors and he looked like crap every other time I watched him play. He has 179 points in 113 games between last season and this season, so obviously he's not bad, but he's just such a little shit that I can't see him being a player I ever actively root for. To be honest, I hope he falls to New Jersey (they're currently in spot 18, he's projected in the 20-24 range), He'd be a great Devil in that he's a son of a bitch and I hate him.
Future Flyers defensemen Jake Bean and Travis Sanheim
Mikhail Sergachyov, Defenseman
Charlie McAvoy, Defenseman
Dante Fabbro, Defenseman
Jake Bean, Defenseman

How about we add some more blueliners into our pool? This group is one Russian, one American, and two Canadians. Serge plays in the OHL, Bean plays in the WHL, and McAvoy and Fabbro both play in college in the US. Suck on that, Canada.

Sergachyov is someone I haven't read much about, but he's a Russian and their style of play generates high-risk, high-event defensemen. His physical talent and his head seem to be able to justify his risk-taking, but I keep thinking about Evgeny Medvedev's defensive zone turnovers and I worry about how his game would translate to the NHL.

McAvoy currently plays for Boston University, and Fabbro will join him on Commonwealth Ave next year. As is the case with most defensive prospects, they are vaguely described as good in their own zone with offensive upside. That doesn't mean a whole lot, but playing together in one of the country's premier college programs should certainly benefit them both.

Jake Bean probably doesn't quite belong in this post. He's probably going to get drafted by a team that made the playoffs, which should suit him that much better. I see his name quite a bit because he plays with Flyers prospects Travis Sanheim and Radel Fazleev, and by all accounts Bean is just a shade below Sanheim for the Calgary Hitmen. Someone like Dubois or Gauthier or Jones would make a lot more sense for the Flyers, but I wouldn't be mad at all if Hextall decided to throw Beaner into the prospect pool of defensemen in Philly.