The Philadelphia 76ers have the opportunity to make two changes to their roster in the next few days that could change the face and direction of the franchise. Over the past few seasons they've been trying to build pieces around Andre Iguodala, but it's pretty much a lock that it's not going to work out like that in the long run. I'm going to post it now, before the Knicks sign Tyson Chandler and mess the whole thing up.
The current pieces (salary in parentheses):
Jrue Holiday, G ($1.7 million)
Lou Williams, G ($5.2 million)
Evan Turner, G ($5 million)
Jodie Meeks, G ($880k)
Andre Iguodala, G ($13.5 million)
Craig Brackins, F ($1.4 million)(Why? I feel like I could contribute just as much as he did)
Lavoy Allen, F (rookie, so not under contract yet)
Elton Brand, F ($17 million)
Nikola Vucevic, F (rookie)
Andres Nocioni, F ($6.6 million)
Marreese Speights, C ($2.7 million)(my dad's favorite player)
Current 2011-12 Payroll: $54 million, before signing the two rookies
(2011-12 Salary Cap: around $70 million; anything above this would qualify Philly for the luxury tax)
Not all that impressive of a roster, right?
But they could end up with a starting rotation of Chris Paul, Meeks, Turner, Brand, and Tyson Chandler with the option to move Turner to 2, Brand to 3, and put in Speights at 4. That's a solid team that's definitely making the playoffs. The 2 obvious acquisitions for this to happen are Paul and Chandler.
Part 1: Signing Tyson Chandler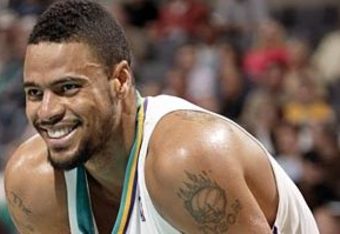 We'll start with Chandler, because the grapevine says that Paul is going to follow him. Not blindly, but if Chandler goes to a good team that has the pieces to acquire Paul, expect CP3 to follow him. Chandler's the most-sought after big man in free agency right now, but there are a few comparable options in Nene and Marc Gasol. Maybe put Gasol ahead of Chandler. Whatever. They're both going to sign new deals that look something like 4-5 years and $15-18 million per year. The 76ers can offer him the maximum of that, and I think they should. Why not throw him an offer for 5 years, $85 million or so? Worst case scenario, you have a talented young backcourt, an All-Star in Andre Iguodala, and Elton Brand and Chandler up front. Best case scenario, Chris Paul gets added to the mix:
Part 2: Acquiring Chris Paul
Getting Chandler is a huge step toward getting Paul. He's only going to agree to sign an extension with a team he wants to play for, and I can't see him not wanting to play for a team with Tyson and a bunch of young guards and forwards he can run the floor with. The tricky part is going to be enticing New Orleans (who's owned by the NBA, so you'd think they would let a trade for a superstar to a major market get away with a little) to give him up. The proposal:
Sixers get:
Chris Paul, PG ($16.4 million)
Hornets get:
Jrue Holiday, PG ($1.7 million)
Andre Iguodala, SG ($13.5 million)
If I'm New Orleans, I'm taking this ten times out of ten. Possibly just because I want this to work. But a core of Holiday (possibly the best value at point guard in the entire NBA), Jarrett Jack, Trevor Ariza, Emeka Okafor, and Iguodala is a good start. Keep in mind, this would put them at almost $30 million under the cap. That's two big-name free agents (a bad idea) or a bunch of talented role players (a better idea). With the pickup of a knockdown shooter or two and some rebounders, that is a legitimate contender in the National Basketball Association.
Meanwhile, for the 76ers, their core of Paul-Turner-Brand-Chandler gives them around $15 million in cap room which should go to some rebounding help off the bench and a slasher to make up for the loss of Iguodala's high-flyer style of play. Actually, scratch that. It should be spent on the most athletic kids they can find in Rucker Park so we can see Chris Paul throw alleys from half-court that get finished in between-the-legs windmill oops.
This trade would make so much sense for both teams, for the NBA, and for everyone who watches the NBA. But it appears like Tyson's going to New York, so toss this whole scenario out the window. I'll keep dreaming, though.