One of my favorite Flyers fun facts is that defensemen Michael Del Zotto, Radko Gudas, and Brandon Manning were all born in June 1990. Del Zotto would largely be considered the best of the bunch, though Gudas and Manning have contributed significantly in his recent absence due to injury.
— Philadelphia Flyers (@NHLFlyers) March 6, 2016
— Philadelphia Flyers (@NHLFlyers) March 22, 2016
I thought it might be an interesting exercise to follow the development of Del Zotto and Manning through juniors and to the NHL (Gudas spent almost his whole pre-AHL/NHL career in the Czech Republic).
Essentially, MDZ has been at least somewhat of a star for what feels like half a decade. He's played in New York and Nashville and has totaled 433 NHL games played. Manning, though he's the same age, has played just 66.
Let's go year-by-year to see how Del Zotto and Manning ended up on this Flyers team (stats from Eliteprospects
here
and
here
, contract info from General Fanager
here
and
here
, images stolen illegally from Google Images):
Del Zotto and current New York Islander John Tavares when they played together in Oshawa
2006-07 Season
We begin our journey with Del Zotto, who played for the Oshawa Generals in the OHL. MDZ played with future NHLers John Tavares and Cal Clutterbuck, as Pierre McGuire will tell you if you listen to one second of a NBCSports Flyers broadcast.
Manning was still in the British Columbia Major Midget League, which would be impressive for 99% of the hockey players in the world. However, it's a step below the BCHL, which is itself a step below the CHL.
Right off the bat, you can see that MDZ was always projected to be the better player. They would have been 16 when this '06-07 season started, and Del Zotto was basically two levels ahead of Manning. He was also excelling at that OHL level, with 57 points in 64 games.
2007-08 Season
Del Zotto's Generals lost Clutterbuck to the pros, but added current Flyer Michal Neuvirth to the roster. MDZ increased his production from 57 points to 63.
Manning moved from the Midget league to the full-blown British Columbia Hockey League, where he scored 26 points in 58 games. He even spent some time in the CHL, with the WHL's Chilliwack Bruins.
Del Zotto during the 2008-09 season after he was traded to the London Knights Dream Team
2008-09 Season
In his last season before making "the jump", Del Zotto split time between the Generals and the London Knights, who acquired him and Tavares to load up for the postseason. That team also included Nazem Kadri, John Carlson, and Zac Rinaldo.
MDZ totaled 63 points in 62 games, and the Knights ran away with the OHL's Western Conference before losing to the eventual CHL Champion Windsor Spitfires (led by Taylor Hall, Ryan Ellis, Adam Henrique, and Former Flyer Eric Wellwood) in the third round of the playoffs.
This was Manning's first full season in the CHL (he spent it with WHL Chilliwack), and he totaled a modest 29 points and an impressive 140 penalty minutes in 72 games.
Manning as captain of the Chilliwack Bruins
2009-10 Season
Both players made huge jumps in this season, though I'll let you decide which one was more huge.
Del Zotto played the full season with the New York Rangers, scoring 9 goals and 28 assists in 80 regular season games (the Rangers missed the playoffs by one point to both the Flyers and Canadiens). He went on to play five games for Team Canada at the World Cup.
Manning stayed with Chilliwack, improved his point total from 29 to 54 (in 69 games), and remained almost constant with 138 penalty minutes. More important than anything, though, he was named the captain of the team. It was a ragtag group of now-unknown players, but Manning led them to a playoff berth and had 6 assists in 6 playoff games.
Clearly, Del Zotto's career was more on track here. But the more I learn about Manning's career arc, the more I like him.
Del Zotto as a member of Team Canada at the 2010 World Cup
2010-11 Season
Del Zotto regressed a bit, splitting time between the Rangers and the AHL Connecticut Whale. He totaled 18 points in 58 games across the two leagues.
Manning, once again captain of the Chill-Bru's (I don't know if this is a real nickname for them but how can it possibly not be?), scored at a point-per-game pace with 53 in 53 games. He also scored one playoff goal in their first-round exit.
2011-12 Season
Del Zotto returned to play the full season in New York, and finished with 41 points in 77 regular season games. He also shined with 10 points in 20 playoff games, as the Rangers made it to the Eastern Conference Finals.
Manning made his professional debut, playing 4 games for the Flyers and 46 for the Phantoms. As you might have guessed, he had more success at the AHL level. He totaled 19 points and 81 penalty minutes with the Phantoms.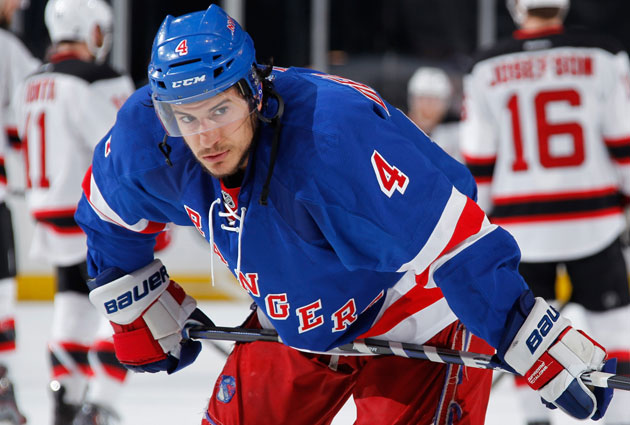 Del Zotto as a member of the New York Rangers
2012-13 Season
At this point, Del Zotto was a regular NHL player. He scored 21 points in 46 regular season games and 2 points in 12 playoff games.
Manning, though, hit another milestone on his path. In addition to playing half a dozen games with the Flyers, he was named an alternate captain for the Phantoms. With the A on his chest, he tallied 21 points and 135 penalty minutes.
Manning as an alternate captain for the Phantoms
2013-14 Season
Del Zotto was shipped from New York to Nashville halfway through the year, and he managed just 16 points over the course of the season. This was his worst year ever, and it ended with him not being given a qualifying offer and hitting unrestricted free agency as a 24 year old.
Manning was an alternate captain again, and he has his best season since he was in Chilliwack. He played 73 games, scored 31 points, and finished with an absurd 231 penalty minutes. Jim Jackson always says that Manning used to muck it up a bunch in the AHL, and the '13-14 season was the best example of that.
Del Zotto as a member of the Flyers
2014-15 Season
Del Zotto signed a "tail between his legs" 1 year deal with the Flyers, and rebounded with 32 goals in 64 games. He was, at worst, a pleasant surprise for Philly fans and, at best, the best defenseman on the team.
Manning continued to split time between the Flyers and Phantoms, bumping his NHL workload up to 11 games. In the 60 he played in the AHL, he scored 43 points and had 150 penalty minutes.
Manning as a member of the Flyers
2015-16
And now here we are. Del Zotto, the prodigy who's rebounding from a couple rough years, has a cap hit of $3.875m this year and next. Manning, who will be a restricted free agent after this season, has a cap hit of $625k.
Del Zotto, before he got hurt, was almost unarguably the Flyers best all-around defenseman. He was physical, he could handle the puck, and he turned Radko Goddamn Gudas into a top-pair defender.
In MDZ's absence, Manning has carved out his own spot next to Gudas. He's also spent time with Shayne Gostisbehere, and he's become one of Coach Dave Hakstol's go-to penalty killers.
Manning tends to draw the ire of a lot of Flyers fans on the internet, but he is everything you could hope for out of a 5th/6th/7th defenseman who makes less than $1 million a year. Not everyone can be Erik Karlsson, and every NHL team has at least 2 holes they would love to fill with Brandon Manning (NSFW?).
And then, last night, he did this:
— Sons of Penn (@SonsofPenn) March 22, 2016
— Jay (@jaylike) March 22, 2016
Was I a little drunk when I tweeted that? I mean yeah, maybe, blame some of those emojis on the #coldones. But Manning sniped the shit out of that shot.
That goal, Manning's first career NHL goal, was the inspiration for this post. It was, unquestionably, Del Zotto-esque. Manning probably won't ever be the offensive player that MDZ is, but it's cool to follow his story and see how he made it to the big show.
And if keeps going bardown on breakways, maybe we can throw him on Couturier's line in Sam Gagner's place.