This week, the Flyers alumni have been practicing at the Skate Zone in Vorhees for this weekend's Alumni Game against the Pittsburgh Penguins. Here is the orange team, which is surprisingly balanced between the four decades of Flyers history: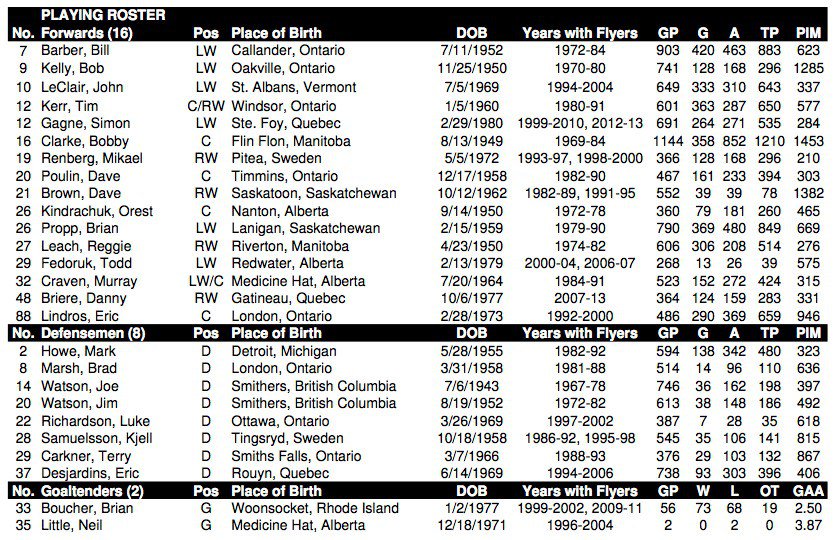 The 1970s
Bill Barber
Bob Kelly
Bobby Clarke
Orest Kindrachuk
Reggie Leach
Joe Watson
Jim Watson
The 1980s
Tim Kerr
Dave Poulin
Dave Brown
Brian Propp
Murray Craven
Mark Howe
Brad Marsh
The 1990s
John LeClair
Mikael Renberg
Eric Lindros
Luke Richardson
Kjell Samuelsson
Terry Carkner
Neil Little (Phantoms)
The 2000s
Simon Gagne
Todd Fedoruk
Danny Briere
Eric Desjardins
Brian Boucher
Neil Little (Flyers)
A few notes on how I grouped these guys:
I had no idea that the Watson brothers were born more than NINE YEARS apart.
I tried to include players in the decade where they played the most games, had the most success, or were the most memorable.
Neil Little was basically just a Phantoms goalie. That should be Ron Hextall's spot, but I guess he's too busy Not Buying Out Andrew MacDonald's Contract to have some fun.
Another name that should be on this roster is Mark Recchi, who is now a coach in the Penguins system. He played for both Pennsylvania teams at points in his career, but he's not lacing up for either side for this game. It would kill me to see him not wearing orange and black, but I'd like to see him regardless.
I included Desjardins in the 2000s group because that's when he took the C from Lindros. Will there be any tension between those two? Tune in Saturday to find out!
Except you can't tune in, because the game is only televised in the Philly market and only on TCN. They couldn't throw it on CSN Philly (the Sixers play at 8:00) or NHL Network (Penguins-Red Wings is on, so you can watch a non-divisional matchup featuring the worst team in the Atlantic) or NBC Sports (professional swimming is on, no seriously).
So we're all going to be huddled around our computers watching the CSN Philly live stream. See you out there!